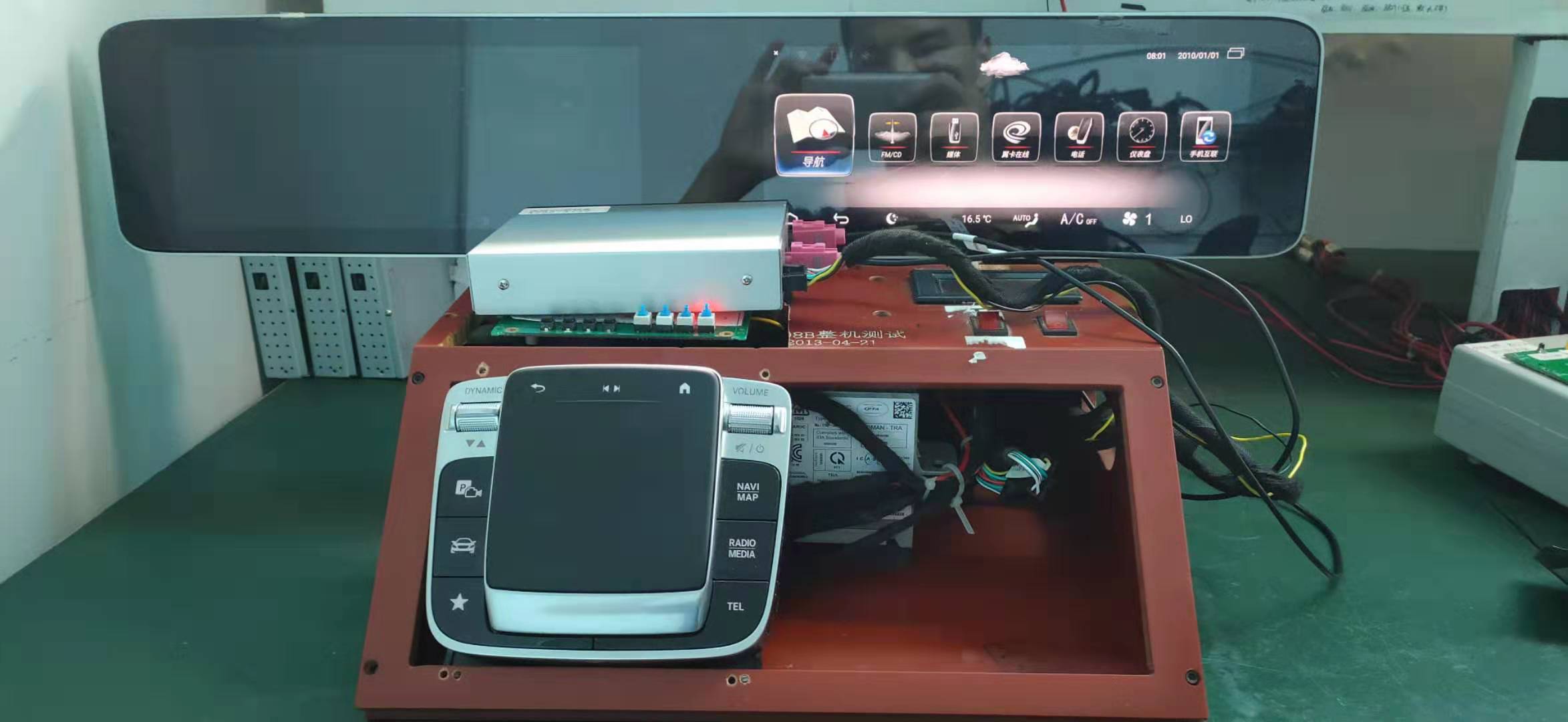 Passt 100% bei folgenden Fahrzeugmodellen:
Mercedes Benz A -Class B-Class GLE-Class GLS-Class NTG 6.0
Original car touch screen 10.25"Resolution 1920*720 Upgrade android 8.0 octa core 4+32g or 4+64g multimedia video interface
Detailed introduction:
Android 8.0 system 8-core A53 processor frequency up to 1.3GHz
? 4GB of running memory, 64GB of storage capacity (optional 32GB)
? 10.25 HD screen,Display resolution up to 1920*720, with capacitive touch screen is not easy to scratch
? Support multi-language, users can switch language types freely
? Two USB ports, one SD card slot; SD card supports up to 32GB, U disk supports up to 64GB
? Built-in GPS module for high reception sensitivity and high accuracy
? Support WiFi connection network, support SIM card connection 4G network
? Support video format: 1080P H264 MP4 AVI RMVB FLV MKV······
? Support audio format: MP3 WMA FLAC APE AAC······
? Support for screen mirroring: Mobile phone connection, used to transfer images and sounds of Apple and Android phones.
? Support for driving recorder function: USB 2.0 or AV_IN (CVBS) mode
? Automatically display reversing images, reversing trajectory and parking sensor when reversing
? Support Android system control via the original car command knob and steering wheel button
? Support for controlling Android with a computer mouse for easy control by rear seat users
? Built-in voice assistant function, safer voice control throughout
? Configure dedicated amplifier box for better sound quality (not compatible with light-brassed amplifier models)
? Support original car light amplifier, need to purchase USB audio converter configuration
? Perfectly compatible with the original car navigation function
? Built-in Bluetooth function and support original car function
? Support original car reversing image and original car reversing radar function
? Android navigation will play traffic or warning messages via a small speaker when using the original car system
? Support free switching to the original car system interface or Android system interface
? Support Android sound via USB or Bluetooth audio
GPS navigation software:
Built-in GAODE map, users can also choose to use Kay LiDE map. With GPS Global Positioning System, you can know where you are when you drive your car. Support voice navigation, real-time traffic conditions, best path search and other functions to make you a shortcut, unimpeded, integrated office and entertainment features let you travel easily and efficiently.
Note: We can also provide GPS maps of Europe, the United States, Africa, Russia and other overseas map.
Optional equipment: not included, but can also be ordered:
**Apple CarPlay, Android Auto, Baidu CarLife
***DAB+ digital radio
***HD driving recorder
***HD camera
***Digital TV
***USB audio conversion box(with power cable + aux line)
1,we will provide 13 months of free maintenance service (means do not charge the cost of labor) from the date of your purchase.
2,If damaged is caused by undue wear and tear, dirt, misused, improper installation/operation, accident or repaired by unauthorized person, the warranty becomes void.(Repair parts fee will be charged)
3,repair parts ratio: 100: 1 (refers to parts, rather than the whole,Specific requirements pls ask the seller)